The purpose of this trip was Netstock IV, the yearly meeting of women from the Women's Issues discussion section of the Issues Forum on CompuServe. Our previous get togethers have taken place in Boulder, CO, Seattle, WA, and Washington DC. We had a smaller than usual group this year, but the group came from Texas (Dallas, San Antonio and Austin), California (Davis, Santa Barbara, and Burbank), Washington (Seattle), and two women were there from Germany.
I talked Chris and Lynn into joining us for the weekend and they fit in with the group so perfectly people were bemoaning the fact that they don't have their own computer and thus can't continue the friendships formed.
Our drive up was incredible. After a stop to show them the Beer Can House, we finally got on the road for Austin. About half an hour outside Houston we hit the first carpet of wildflowers. And in similar fashion, the flowers carpeted most of the highway leading into Austin. It's a 3 hour drive, and I'm sure at least 2 hours of it was filled with a patchwork quilt of color that made one think of traveling around the Land of Oz.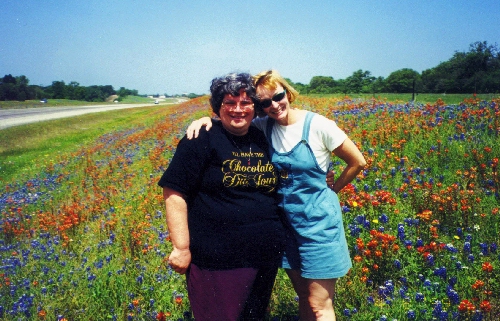 We drove to the LaQuinta-Mopac hotel in Austin, overlooking IBM (which seemed appropriate), where we met up with Walt, who had flown in for the weekend. The four of us joined the rest of the group at the home of Diane, our hostess. She supplied us with pre-dinner refreshments, of special interest to Mary, famous for her boxes o'wine. We also met Mike (different Mike) & his partner, Ed. Mike is a long-time e-friend, whom I had never met face to face. He brought durian for all of us to taste (please do follow that link!). We did not get to the durian until Monday.
The whole group drove to the outskirts of Austin (I think), to The Oasis restaurant, with its beautiful view of Lake Travis. The place seats 1500 on 14 levels and is pretty amazing. It's known as the best place to watch sunsets and when the sun finally sets, they ring a bell. The bell pull happened to be at our table, so Lynn was chosen to ring the bell, for which she received a free beer.
---