---

<! IMG SRC="http://www.dcn.davis.ca.us/~gizmo/graphics/es.gif" ALT="Holiday Wishes from Elisabeth Sherwin" WIDTH=166 HEIGHT=192 HSPACE=8 BORDER=0 ALIGN=left>
Printed Matter
by Elisabeth Sherwin, formerly of The Davis (Calif.) Enterprise




Over 400 book reviews and author interviews are indexed and on-line at this website.

These columns and articles have been featured in a number of newspapers and are available for syndication.
Please send comments or possible sponsored writing project assignments to gizmo@dcn.davis.ca.us
For information about Elisabeth Sherwin visit Elisabeth's Bio page.
---
[Author Menu] [Date Menu] [Genre Menu] [Links] [Sponsors]
---
<!This is the bouncing ball>

Transplanted Californian puts down roots in Colorado mountains -- see January 24, 2016 column by Elisabeth Sherwin.

Adair McPherson is full of energy – again -- see August 21, 2013 column by Elisabeth Sherwin.

PRINTED MATTER ON THE WEB -- Resumes on a monthly basis starting January 2016
-- New for January 2016 -- New for August 2013
Recommended Reading -- Elisabeth Sherwin's List of Best Books
Special; 10th Anniversary installment -- May 25, 1997

Directories and Indexes Updated for 2013 -- articles ordered by the author's surname (search engine). -- article titles (subject search engine) ordered by date of publication. -- articles described by type, with author's name and book title. -- photos from past columns (see below for current image)

Elisabeth's Art Reviews -- On-line Art magazine supplement New

Elisabeth's Travel Log -- On-line travel magazine supplement updated 06/29/07
Come visit the real Georgia June, 2007
Reporter describes her long, strange trip to India March, 2006
Seven months after tsunami, exhausted care-givers need help August, 2005
Brit captivated by sunny San Francisco, Yosemite. May, 2004
I may be a minority voice on this, but I like Paris. November 2003
A 12-step meeting in Uman, Ukraine October 2003
Georgia to Armenia 2003 September 2003
as described by Elisabeth
---
[Author Menu] [Date Menu] [Genre Menu] [Home Page] [Links] [Sponsors]
---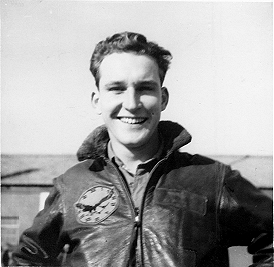 "In the photo, [Lt Frank Sherwin] wearing his leather flight jacket with the "night hawk" insignia (drawn by Milton Caniff of the "Steve Canyon" comic strip fame). It looks like he has his hands on his hips as he grins into the camera. The photo was taken on a windy day. He looks young, brave..."

Follow this link to theAugust 15, 2005 feature in the Davis Enterprise and part of PRINTED MATTER ON THE WEB.


Caption by Elisabeth Sherwin, quoted from the above, linked column.

Photo by unknown, circa 1944.
---
This Web site is maintained with the assistance of The Davis Virtual Market (G.Richard Yamagata, PhD,) and is proud to be indexed in YAHOO: [Columna and Columnists] and [Literature Reviews]
---
Printed Matter's Growing List of Sponsors:

Over 30 Years Experienced Attorney for Automobile Accidents, Personal Injury,
Wrongful Death, Dog Bites, Serious Injuries, Appellate Law
Phone 530-668-7600

---


Click Here DavisChildCare.Org

Campus Child Care Inc. operates four child development centers in
Davis, California serving families with infants, toddlers, and preschoolers.

---


Former Davis City Council



---


Click Here for Custom Made Shoes

The most comfortable footwear in the world.

---

<! A HREF="http://www.virtual-markets.net/go/getpizza/"><! IMG SRC="http://wheel.dcn.davis.ca.us/go/getpizza/valentines/4sm.gif" WIDTH="78" HEIGHT="78" BORDER="0" align=right><! Virtual Valentine Generator> .

Davis Virtual
Market
|| Bob Bockwinkel Lyon Real Estate --
(Click on Logo below for web site)
|| Sue Greenwald --Mayor of the City of Davis
A Record You Can Trust
||
|| Davis Community Network
|| Davis Enterprise
||
Uman Sister City of Davis, CA

Contact VME to place your advertising link here
---

Davis Virtual Market Links of Solidarity
---