Spring Show Goat Show
by Brianne
My first year in the goat project was really fun. My goat, Samson, and I have practiced for Spring Show, which was our first show. When Spring Show came, it was surprising to know that the judge, Larry Speed, was the person I purchased my goats from. The first thing that happened was showmanship. There were about 7 others in the ring. When Samson and I entered the ring, he was being stubborn and did not want to walk. When we walked about 1/3 of the ring, he started cooperating. I was definitely glad he did, because we would get many points taken off our score. When the judge asked us to come one at a time, he asked where the chine was. I did not know the answer. Almost everyone else knew the answer. I thought for sure I would not place very well. When he was placing us, I was excited to win 2nd Place! While Samson and I were waiting to go in the ring, people were commenting on how patient he was. Most of the other goats were making sounds, even when they were in the ring with their owner.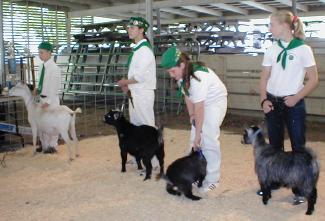 In the breed show there were only three pygmy goat wethers. Samson was not stubborn in the ring because he got used to it. We walked around the ring a couple times, walked forward and back when the judge asked, and then we were placed. I was excited that Samson won 1st place! This year at the show has been a great experience. I feel that we did well for our very first show.
Spring Show Rabbit Show
by Brianne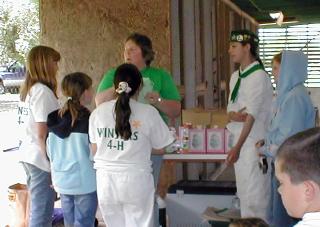 This year at Spring Show I had a Mini Lop Sr. broken steal buck, Boo Boo, a Mini Rex Sr. broken castor buck, Peanut Brittle, and a Mini Rex Sr. broken black doe, Jennifer. There were 14 mini lops and Boo Boo got 2nd place of its variety. There were 13 mini rex rabbits in the show. If a buck wins best of breed, the judge chooses the best doe, and vise versa. Peanut Brittle won best of breed, and Jennifer was the best doe. I did not know this because I was at the goat show. I found out on Sunday when all the awards were given out. I was very shocked. Peanut Brittle is the son of Jennifer, and I did not buy him, he is a rabbit I have had when he was a day old. At showmanship I had to examine my rabbit, and I answered a few questions the judge asked. I placed 7th out of 10.
Congratulations Mica!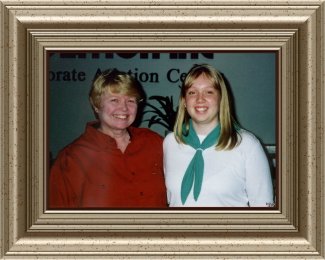 The Yolo County Farm Bureau gave Mica the Student of the Month Award in November.
Owl Pellets
by Amy
Owl pellets are fur balls that owls cough up. You can find bones from animals that the owl ate in owl pellets. Usually, the owl pellets that the owls cough up are from field mice and voles. You find fur, skulls, teeth, and bones from feet, legs and other parts of mice. You can take owl pellets apart by getting them wet first and then using two tooth picks to tear it apart. I looked at owl pellets for my wildlife project. They were very interesting.
4-H Halloween Party 2002
by Brianne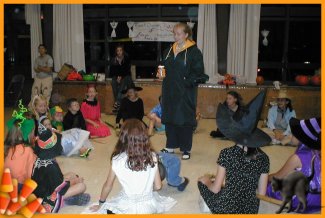 The 4-H Halloween Party was fun! The first thing we did was to guess how many candy corns there were in the jar. The winner wins the whole jar. After, we guessed how much a pumpkin weighed, and the winner got to have the pumpkin. Then we told spooky stories and decorated cupcakes.
Then we got in four different groups. The first thing the groups did was wrap up a person with toilet paper like a mummy. Then we had to carry a pumpkin bucket on our head with one hand. The winning team got four bags of candy to split. After, we had to eat a whole donut without any hands.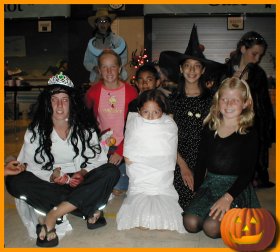 Later, we got to guess how many beans were in a jar and how much another pumpkin weighed. Also, there were three bowls with towels over them, and we put our hand in each one. In the bowls there were a human heart, brains, and eyeballs. Then we got a paper to write names on for the costume contest. At the end, we found out the costume contest winners. We all had a great time!
Click here for more Halloween Party pictures.
October's Holiday Craft
by Melissa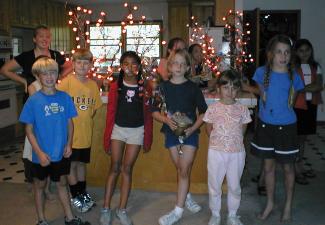 This last Saturday was a Holiday Craft meeting. First we took a pot. Then we cut out a square piece of foil and put it on the bottom of the pot. Then we got to pick out a branch. Then we made plaster and put it in the pot. Then we put the branch in the pot with plaster in the way we wanted the branch to go. When the plaster dried, we painted the pot green colors. Then we added a second thing of plaster. When the second plaster dried, we spray painted the branch gold. Then we put moss around the bottom of the branch to cover up the plaster in the pot. Then we got to pick out what lights we wanted and wrapped it around the branch. Then it was FINISHED!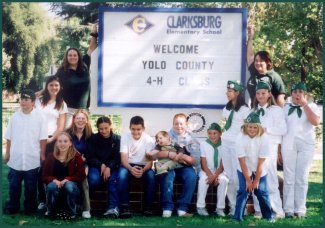 Congratulations to all that received awards on Achievement Day in Clarksburg.