McHenry Vineyard
1996 Pinot Noir
Massaro Vineyard
Carneros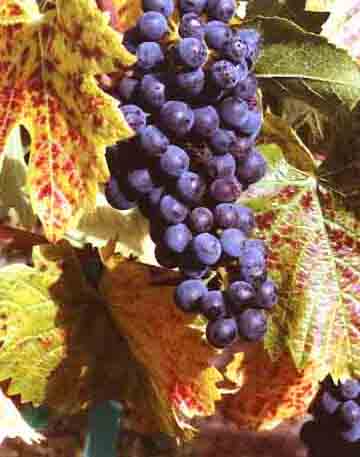 This magnificent wine has rich earth scents. It is soft and supple on the palate. It is delicious now after its 6+ years of bottle aging and promises to get even better.
The harvest began at 7 a.m. on September 6 at Ray and Shirly Massaro's vineyard. The vineyard lies on a gentle hill in Carneros which is close to the north end of the San Francisco Bay in Napa County. It is a perfect spot for the sensitive Pinot Noir grape. For a winegrowing region, Carneros is quite cool so the fruit matures slowly and retains an excellent backbone of tartness while developing rich sugar concentration. In 1996 the grapes reached 23% sugar and retained a wonderful acidity measured as total or titratable acidity equal to 0.8 and pH of 3.4. Part of the splendor of Ray and Shirly's grapes is the extreme care they take of the small plot left for our harvest. Most of their crop is picked early and goes to Mumm Champagne.
We picked into small, 35 pound boxes so that very little damage was done to the fruit before it reaches the winery. The crushing and destemming involves the use of an old Italian machine that is very gentle and exasperatingly slow. The primary fermentation happens in four small open containers that we stir regularly. The yeast was Wadenswil, a special German clone that we have used ever since our 1984 vintage that won several gold medals (for best varietal in the San Francisco Bay Region, best Pinot Noir in that region, and best Pinot Noir in the State) at the California Commercial Wine Competition of the 1989 State Fair.
The primary fermentation lasted seven days. We pressed the must very gently in an old basket press and let the new wine settle for a day. It then went into 60 gallon French oak barrels that were made mostly from trees grown in Limosin near Limoges in south central France. It rested in our cool and dark cellar undisturbed except for a midwinter racking (i.e. removing the clear wine from the sediment). We bottled in August, 1997. As we have experienced since we began making Pinot Noir in 1976, the wine going into the bottles is superb, but then there is "bottle shock" when the taste becomes flat. Hearts sink, of course, but patience is rewarded. After several years in the bottle, the wine has blossomed into its natural elegance.
340 cases produced
Alc. 13.1% by volume
18.50 per bottle
---
McHenry Vineyard