McHenry Vineyard, 2000 Pinot Noir, Carneros, Massaro Vineyard
We are delighted to introduce the 2000 vintage! It's the golden child – sweet at birth, never displeasing through childhood, and now blossoming with beauty, richness, and power. Why the youngest of eight vintages should be so rewarding we'll never know. It is blessed with magic beyond our understanding.
The magic began in the vineyard. Ray and Shirley Massaro have the perfect spot for great Pinot Noir grapes just over the hill on the bay side from Chateau Carneros. They are skilled viticulturalists (as we can appreciate from our U.C. Davis perspective). Most of their precious crop goes to making Mumm Champagne, but a small block is reserved and specially cultivated for us since 1993.
We are pleased that the resulting wine has been so well received by commercial wine judging competitions including many gold medals and the 4 Star Gold Medal Award from the Orange County Commercial Wine Judging competition that was awarded to 15 out of 2550 entries. The 2000 Massaro has already received medals from the State and Santa Cruz County Fairs.
Like its older siblings, the 2000 vintage is soft and luscious. Hints of strawberry, vanilla, and cherry meet the nose, but the complexity defies simple description. That's the pleasure of delicious Pinot Noir – it's a sensuous experience beyond words. Feel its soft and powerful texture – such a beautiful experience to share!
288 cases Alcohol 13.7% $20
---
---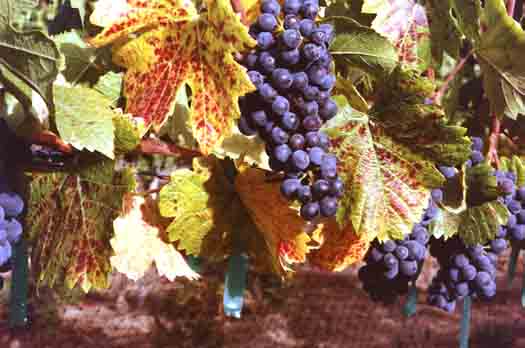 McHenry Vineyard Estate Pinot Noir Grapes September 2002