McHenry Vineyard

McHenry Vineyard, 2002 Pinot Noir, Estate, Santa Cruz Mountains

Pleased enjoy our third Pinot Noir from our new estate vineyard.
The new vineyard lies in the same spot as the one Dean, Jane, Henry and Linda McHenry planted in 1972. The old vines produced some extraordinary Pinot Noir such as the 1984 that won numerous awards including best Pinot Noir in the state at the California State Fair, and gold medals for the 1988 and 1989 vintages. We mourned old vineyards the death from Pierces Disease in 1992, but kept the hope alive that someday we could replant. We replanted in 1997, the last summer of our senior partner Chancellor Dean McHenry's life.
We harvested between September 12 and 23 at 23.8 degrees Brix, 0.8 total acidity (percent by volume) and 3.3 pH. The primary fermentation lasted nine days and the resulting wine rested for nearly two years in Francois Freres French oak barrels.
Soft, luscious, warm, elegant, and complex.
386 cases produced
$19.50 per bottle
Alc. 13.1 % by volume

---
Click here for an annonimous description of this wine's perfume.

Jamie Kutch posted a cute story about this wine on Mark Squirres' Wine Bulletin Board on RobertParker.com:

Click here for the complete story.

13.1% alcohol, Earthy notes with Strawberry fruit, Light pastel red in color, $20?
Tonight I was in K&L in San Francisco looking at the domestic pinots when I came upon one with a big star sign on it and the words Staff Pick. I was close enought to the counter so I yelled out to the girl "hey,who's staff pick is this?" A cute blonde with blue eyes said mine. Well, anyone who knows me, know's I am a sucker for blondes. So with the bottle in hand I made my way over to the counter to get a closer look. The label said 2002 McHenry Pinot Noir Santa Cruz Mountains Estate Bottled. The young lady said the wine was light styled with wonderful aromatics and some dirt notes. I almost yelled SOLD like I once did on Wall Street but choose to play it cool by thanking her and saying I would take it. Upon her handing me my change she said, "I look forward to seeing you again and hearing your thoughts on the wine". I was all smiles.

I tried my best to race home in my new 4cyl 01 Honda Accord which my insurance company bought me after a drunk deer totalled my Hyundai Sonata whom wandered onto the highway which I was traveling 60 miles on. As I thought of the blonde at the counter of K&L something began vibrating in my pocket. I pulled it out and answered it. Kristen said she was picking up a Rotisserie Chicken with mashed potatoes and vegetables from the local deli on Polk Street. I said great and parked the car, opened the door and though I had to go to the bathroom quiet badly I reached for the corkscrew after entering my apartment to pop out the cork and enjoy a quick sniff and sip. The wine was amazingly light in color almost pastel pink. The nose soared immediately with notes of strawberry and earth. The palate was inviting and slinky soft. The finish was smooth and easy to get used to. What a wine, I couldn't wait for Kristen to get home so we could enjoy it with the meal.

Kristen walked in the door and upon looking at the color and smelling the glass she stated "an old pinot"? I said not that old. She then tasted it said wow, that's really nice and will go great with the chicken. I couldn't have agreed more. This was a a wine to make any troll proud at 13.1% ALC.

With only 386 cases made, I probably shouldn't have posted until I went back to K&L to pick up a few more. If you want a brawny monster pinot cocktail, this isn't for you. If you want subtlety and finesse with a light style you would be all over this like that deer on my bumper. __________________

Jamie Kutch
Kutch Wines
---
Henry and Linda McHenry
330 11th Street, Davis, CA 95616
Tel & FAX (530)-756-3202
Order wine directly from us by email or phone or

---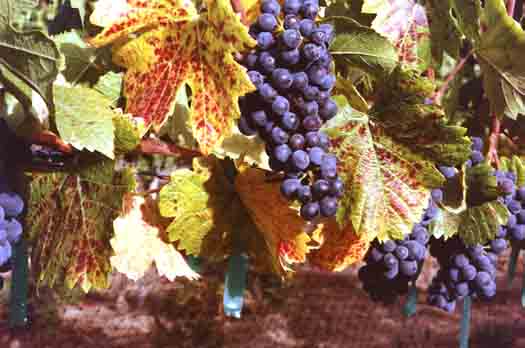 McHenry Vineyard Estate Pinot Noir Grapes September 2002