McHenry Vineyard

McHenry Vineyard, 2005 Pinot Noir, Estate, Santa Cruz Mountains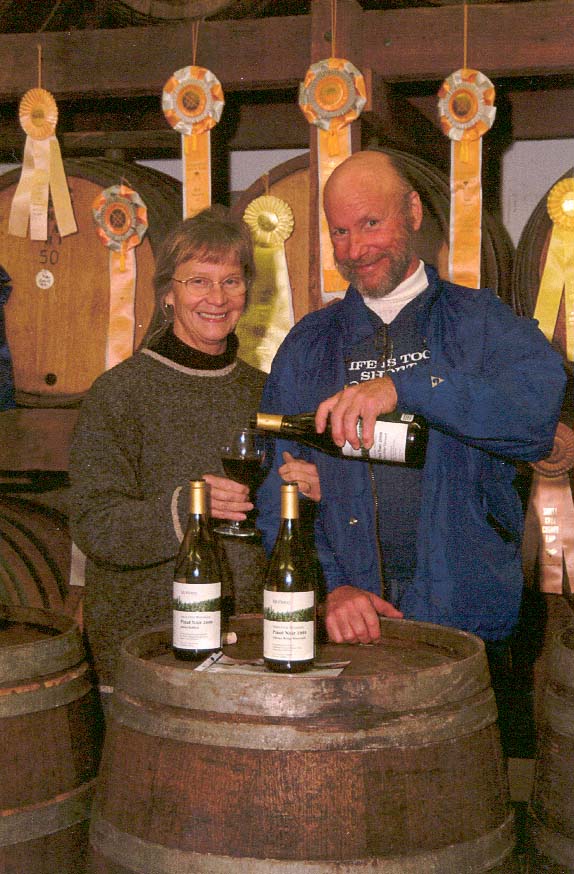 Pleased enjoy our fifth Pinot Noir from our new estate vineyard.
"The grapes make the wine" is a cliché and a simplistic way of explaining the complexities of how great wine comes about. However, with Pinot Noir it is the best explanation of why some wines are so very pleasing. We smiled with delight as we picked the 2005 crop. In our 30+ years of experience with this noble grape, it reached as close as we have ever seen to perfection: rich sugars (25 degrees Brix) and flavors, strong backbone of tartness (1.2 TA, 3.2 pH) and tannin, and small, flavorful berries. The resulting wine is absolutely superb, but we are disappointed to have less than 200 cases of it. Like our 1984, 1988, 1989, 1993, and 1997, it will be best of show in commercial wine judging competitions with bottle aging. It has already won a Silver Medal at the California State Commercial Wine Competition.
The scent is hauntingly beautiful and complex; the feel in the mouth is soft and luscious ; the pleasure of the after-glow brings a smile.
170 cases produced 27.50 per bottle
Alc. 13.6% by volume
---
eRobertParker.com comments on this wine
Prince of Pinot's comments on this and other McHenry Vineyard Pinot Noirs
Cellartracker.com comments on this wine
---