GlobalCN2001
 

Buenos Aires, Argentina
Report to the AFCN
<![if !supportEmptyParas]> <![endif]>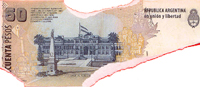 Richard Lowenberg,   1/2/02
<![if !supportEmptyParas]> <![endif]>
            As I write this, my heart and best wishes go out to the many good people who hosted us, and who are suffering under a difficult, worsening and potentially dangerous national situation.  
<![if !supportEmptyParas]> <![endif]>
Three weeks have passed since the closing of the GlobalCN2001 Congress in Buenos Aires, Argentina.  I had intended to report on the program and activities immediately upon return, but day to day local (DCN) community networking urgencies, personal life necessities and holiday season distractions have gotten the upper hand.  The vivid recollections and feelings are no longer as fresh as I would like for this purpose, but I will try to weave a short account of the Dec. 5-7th international gathering of community networking activists and of my six days around Buenos Aires.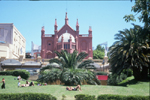 click on photos
<![if !supportEmptyParas]> <![endif]><![if !supportEmptyParas]> <![endif]>
The Conference:
Over the year since (and even before) the GlobalCN2000 Congress took place in Barcelona, Susana Finquelievich and colleagues in Buenos Aires have been focused on organizing the second annual community networking conference in their beautiful, now troubled southern hemisphere home.  I personally applaud Susana, Silvia Senen, Ximena Boyd and all the many others who did a great job at pulling this off so well.   They and the program sponsors must be congratulated for their persevering efforts to produce and realize a costly event in the midst of the escalating nationally and personally effecting economic problems and uncertainties.  These big, expensive, logistically complex, translation requiring conferences, on subjects that are poorly understood and valued, are stressful, all-consuming efforts.   I don't know the ultimate demographics of the event, but of the over 400 attendees, most were naturally from Buenos Aires and Argentine surrounds, including university faculty and students, government officials and staff, telecommunication company and other corporate representatives, press and tele-media reporters, and individuals with various Internetworking interests. 
Additionally there were community networkers from around the world, many having submitted papers accepted for presentations on panels and in workshops.  The program budget covered the travel and accommodation costs of many of these participants representing key areas of interest and geography, as well as of additional Global CN Steering and Working Committees (on which I currently serve as AFCN rep.).   Though Asian initiatives were barely represented this year, it was a privilege to meet and learn from the many smart and dedicated people who were able to attend on the conference's or on their own budget, from parts of Africa, Australia, Europe, South and North America.  Excellent professional translation services were provided for almost all of the program, in Spanish, French and English.


<![if !supportEmptyParas]> <![endif]>
<![if !supportEmptyParas]> <![endif]>
Tomas drives a taxi.  He is unable to find employment in his profession as a museum curator.   He does massage on the side.   My Spanish allowed for simple, inquisitive conversations with locals around Buenos Aires.
<![if !supportEmptyParas]> <![endif]>
            The Conference, itself, allowed for some criticism.   I will admit that I harbored some very specific concerns long before attending, many of which turned out to be justified.  Becoming an 'old hand' at community networking conferences, I have increasingly heightened expectations of my own role as well as of the conversation and 'next step' actions among those of us, mostly self-selected, practitioners and activists, steering regional or global agendas for the near future of our tele-mediated society.  Recognizing the difficulties and cultural differences inherent in organizing such conferences, I still feel that the program panels, sessions and workshops were overly academic and conventional in structure and content, allowing less than needed time for facilitated conversations and group-work activities that could be more productive.  The means and techniques for more effective people-to-people and community-to-community Internetworked collaboration, continue to pose some real creative challenges and opportunities.  
That said, I will reiterate that it was a rare and valuable chance to hear, read and talk with
some of the most intelligent and caring individuals from diverse places, who recognize the value and needs of community networking, and who are working to set examples in their local corners of the world.  The agenda for 'tele-centers'; community-building applications of radio, video and wireless media; cooperatives; educational initiatives; indigenous rights; policies; women's and children's opportunities; and tele-health projects were among the many topics addressed by people who inspire hope for our networked local-global future.
<![if !supportEmptyParas]> <![endif]>
<![if !supportEmptyParas]> <![endif]>
Tango:  Tango is everywhere in Buenos Aires; in the bars and cafes, in the streets, in the air, and in the hearts of those who feel the sensual expression that has become the symbol of this culture.  At a Sunday street fair in the touristy San Telmo section of the city, tango was performed with accordion, guitar or boom-box accompaniment, on every corner, for small donations and viewing pleasure.  There are no formal steps, just a severe, innate sexuality, creatively expressed between the partners and the music.


<![if !supportEmptyParas]> <![endif]>
            Richard Civille and I co-convened a session on "Networked Economics and Community Economic Development".  With presentations by Wal Taylor , from University of Queensland, Australia, and Michel Ickx, from Spain, the panel discussion opened to facilitated discussions with lots of attendee participation.  I also moderated the closing Plenary panel on "Community Networking Sustainability", which included short presentations by Susana Finquelievich, Scott Robinson (Mexico), Ken Young (Australia), and Seattle's Doug Schuler.  
            The conference program and papers are on the web at www.globalcn2001.org/.  A CD containing the papers was also produced and distributed to all attendees. 
<![if !supportEmptyParas]> <![endif]>
<![if !supportEmptyParas]> <![endif]>
Food:  No one in Argentina is asking "Where's the beef?".  Meat reigns supreme as the dietary staple.  Argentine red wines make a great accompaniment  to meals and should become a delicious source of greater economic and cultural revenue.  Restaurants and cafes abound in cosmopolitan Buenos Aires, and though being primarily a vegetarian for over 30 years, I was able to enjoy pastas, baked goods, salads, cheeses, fruits and vegetables and seafood, and even found time to sample excellent Japanese and Thai restaurant cuisine and ambience. 
<![if !supportEmptyParas]> <![endif]>
Social Networking:
            As always, the most meaningful and interesting exchanges took place in the lobbies, hallways, restaurants and other social gathering places that surrounded the conference.  Formal presentations, at best, wet the appetite for meatier conversations with those who share experiences, interests, attractions, and mutual desires to better understand the context and support for our evolving social inventiveness.   I had some very moving introductory conversations with attendees from Senegal, Ghana, and Cameroon, where the Internet is facilitating social and economic processes among new women's entrepreneurial networks and healthcare initiatives.
<![if !supportEmptyParas]> <![endif]>
<![if !supportEmptyParas]> <![endif]>
Diego drives a taxi.  He is a dental technician.  He intends to leave his home in Buenos Aires with his family, for either Barcelona or Miami, where he can continue to speak Spanish.
<![if !supportEmptyParas]> <![endif]><![if !supportEmptyParas]> <![endif]>
<![if !supportEmptyParas]> <![endif]>
Goals and Objectives:
            Many questions continue to arise regarding the effectiveness of the Global CN initiative, the inclusiveness and democratic nature of the organizational processes and structures, or the organization's determined activities.   The underlying purpose for a Global CN Partnership (GCNP) would be to serve as a concerted public voice for the many local CNs around the world, and as a body through which constituents may share information, resources, experiences and best practices.  It would also serve as a means to represent and include the needs and interests of 'local civil society' development, in answer to the mostly top-down, government and private sector decisionmaking processes and investments now being advanced to build a 'global information society' across all terrain and divides. 
            With these understandings agreed upon, at least conceptually, a group of volunteers attending last year' conference in Barcelona and this year's conference in Buenos Aires, have though online exchange and face-to-face working meetings, established the beginnings of an organizational and governing structure for the Global CN Partnership.  This work has been both contentious, given individual and global differences, and cooperatively fruitful.  Greater inclusiveness and more democratic communication processes have yet to be better integrated.
<![if !supportEmptyParas]> <![endif]>
<![if !supportEmptyParas]> <![endif]>
The Argentine economy, though little reported on in this country, has been troubled for many years.  Events began coming to a head during the month of December.   During my few days in Buenos Aires, I witnessed several street demonstrations against government economic policies and other political actions.   Payment of pensions to the elderly had just been stopped, and labor unions protested.  Police-guarded banks had long lines of customers anxiously waiting to make their $250 per week limit on withdrawals.  The rich, I was told, have merely opened numerous bank accounts. 
<![if !supportEmptyParas]> <![endif]><![if !supportEmptyParas]> <![endif]><![if !supportEmptyParas]> <![endif]>
Next Steps:
            By the close of the Congress, it was established that three working groups would constitute the GCNP Secretariat: one focused on building the organization, one on coordinating annual Congresses, and one dedicated to development of projects.  Chairpeople have been selected.  An organizational framework is to be drafted by Spring, to be circulated and finally approved at the next Congress in Montreal, in October.  During the year, proposals for projects will be developed and academic research projects will be initiated.  Email lists and web sites are being activated and updated.  A next Secretariat working meeting is being scheduled to take place in late February in Barcelona, where Artur Serra and colleagues have offered some available funds to finance the first year of GCNP development, including staffperson, office and web site.
<![if !supportEmptyParas]> <![endif]>
<![if !supportEmptyParas]> <![endif]>
Las Madres de los Desaparecidos:  Thursday, Dec. 6th, marked the annual demonstration in the Plaza de Mayo, of the supporters of the 'movement' to find the truth about the disappearance of thousands of Argentine civilians during the brutal regimes of the mid-1970s.  Hundreds of photographs hung from a high scaffolding; marchers with bull-horns and banners; elderly women wearing the traditional tri-corner white head scarf; smoke bombs; poised riot police; and people of all ages and backgrounds milling about or marching in solidarity, filled the air with pungent sadness and rebelliousness.
<![if !supportEmptyParas]> <![endif]><![if !supportEmptyParas]> <![endif]><![if !supportEmptyParas]> <![endif]>
Arts Presentation:
            On the evening of Saturday, Dec. 8th, I presented slides, video and audio recordings, representing some of my communication-arts projects over the last 25 years.   I had Internet contact with a few individuals in the Buenos Aires arts and new media community, over recent months.  Roberto Jacoby, director of the Fundacion START (society, technology and art), had graciously agreed and prearranged for me to have an evening show, for interested conference attendees and the local arts community.   Since writing about art is like dancing about architecture, I will only say that the digitally sampled Iranian vocal music; blind and weightless dance experiments; bio-monitored plants, muscles, marine mammal and gorilla communications; military surveillance imaging, talking computers' composition and 'friendly fire' video, provoked thoughtful concerns and lively conversation about the place of arts and creativity in the 'information society'.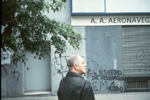 <![if !supportEmptyParas]> <![endif]><![if !supportEmptyParas]> <![endif]>
Silvina Szperling is a dancer/choreographer and media artist, who with teacher/journalist, Rodrigo Alonso, produces the annual Argentine Dance-Video Festival. Silvina's husband has been laid of as classical music director for a local FM radio station, where young people continue to DJ with no pay.  They hope to be able to come to the U.S. with their daughters during the coming year.  On Sunday evening, I attended a new dance performance choreographed/directed by Silvina's sister, Susana.  It was simply and inspiringly beautiful.
<![if !supportEmptyParas]> <![endif]>
<![if !supportEmptyParas]> <![endif]>
Buenos Aires and Surrounds:
Beautiful warm weather and one brief rain shower provided a most enjoyable and relaxed
early Summer setting for the walks between hotels and restaurants, city tours and small outings.  The city is large and very cosmopolitan.  Many buildings and streets look as though construction work begun in the past, has never been completed.  The city seemed to be in a simultaneous state of building and decay.  I visited the grave of Eva Peron.
 On Saturday morning, I joined a small group of conference attendees from Germany, South Africa, Australia, Canada, and the UK, for a day trip to Tigre, a market town, about a 50 kilometer train (or boat) ride up the river delta from Buenos Aires.  For part of the trip, I spoke with Leonardo, who described the 'open source' tools being developed and expected to be shared by his community network in Milan, Italy.  Our entourage was led by local attendee, Federico, who has been employed as the equivalent of Buenos Aires MIS Director (for the past eight months without pay).  While in Tigre, I wandered off along some side streets and saw workmen pulling fiber conduit.
In Tigre and throughout Buenos Aires there are small, commercial, storefront tele-centers, where one can pay to access the Internet, use various applications or play games by the minute or half-hour.  Even our hotel had a convenient five station computer room, and access in each room, though Internet connectivity was very slow.
<![if !supportEmptyParas]> <![endif]>
<![if !supportEmptyParas]> <![endif]>
AFCN's Role:
            The AFCN has taken the lead in representing the needs and interests of community networking in the U.S.  As such it has both a primary local and national role to play.   It must also be a leading partner in global 'information society' decisionmaking and action agendas.   Participation on the part of more AFCN members is hoped for, and I look forward to hearing from those of you who would like to be more involved in the GCNP efforts.  A special one day informational and strategic planning session is being planned, as part of the CPSR-DIAC program, taking place in Seattle in May.   Stay tuned for more details.
<![if !supportEmptyParas]> <![endif]>
<![if !supportEmptyParas]> <![endif]>
Schedule of International Meetings:
            Among the many international conferences and working/decisionmaking meetings taking place over the next few years, the following (incomplete list) are noted as having some bearing on agendas for the Global CN Partnership. 
<![if !supportLists]>§ <![endif]>World Social Forum, Porto Alegre, Brazil, Jan. 31- Feb. 5, 2002
<![if !supportLists]>§ <![endif]>CPSR-DIAC Symposium, Shaping the Network Society", Seattle, WA, May 16-19, 2002
<![if !supportLists]>§ <![endif]>Fifth Community Networking Conference, Monash University, Melbourne, Australia, July 3-5, 2002
<![if !supportLists]>§ <![endif]>World Summit on Sustainable Development, "Rio + 10", Johannesburg, South Africa, Sept. 2-11, 2002
<![if !supportLists]>§ <![endif]>Third Global Summit on Community Networking in the Digital Era (GlobalCN2002), Montreal, Quebec, Canada, Oct. 7-13, 2002
<![if !supportLists]>§ <![endif]>Fourth Global Summit on Community Networking in the Digital Era (GlobalCN2003), Rockhampton, Australia, Fall 2003
<![if !supportLists]>§ <![endif]>ITU World Summit on the Information Society, Geneva, Switzerland, Dec. 10-12, 2003
<![if !supportLists]>§ <![endif]>ITU World Summit on the Information Society, Tunis, Tunisia, 2005