---
Writer's range extends from unicorns to elephants
Feb. 25, 1995
Elisabeth Sherwin -- gizmo@ dcn.davis.ca.us
---
A little known fact: It turns out that fantasy writer Peter S. Beagle of Davis likes elephants as much as he likes unicorns.
He is most well-known for a book he wrote in 1968, "The Last Unicorn." But his most recent book, a book of non-fiction, is "In the Presence of Elephants" (Capra Press, 1995, $16.95). At fantasy conventions, adults frequently tell him how much they loved reading "The Last Unicorn" when they were children. "It gives me a turn," Beagle admitted in a recent interview, "because I remember finishing it last week." Does he tire of people endlessly associating him with one book, which isn't even his favorite?
"No, I consider the alternative," he said.
"In the Presence of Elephants" is a slim book of black and white photographs taken by Los Angeles Times photographer Genaro Molina. The subject of the book is the elephants that live at the Performing Animal Welfare Society, PAWS, located in Galt, where Pat Derby rescued a herd of four elephants. Beagle wrote the text accompanying the marvelous photos.
He said he first met Derby, a small red-headed woman, at a Hollywood party about 25 years ago. Derby, he recalled, was wearing a beautiful green dress and cuddling a coyote puppy.
"The puppy peed down her gorgeous dress and she didn't bat an eyelash," he said. "So I went over and introduced myself to her." They've been friends ever since and this is their second collaboration. The first book they wrote, which was about Derby's life as an animal trainer, was "The Lady and Her Tiger." For the past 10 or more years she's run a ranch for abused and neglected animals - lions, tigers, bears and elephants.
"She's like nobody I've ever known and probably crazy as a jaybird," he says.
Not only does Beagle write fiction and non-fiction but he has a second career as a singer. He once played at The Palms in Davis. "I'm immensely proud of that one evening," he said. His longest gig was a steady run every Saturday night for 12 years at a restaurant in Santa Cruz. He sings in English, Yiddish, French and German.
Beagle says his career as a musician helps him understand the desire people have to come to fantasy/science fiction conventions in costumes, celebrating Star Trek characters or something out of "The Hobbit."
"They don't just want to read the books," he said, "they want to become them. I understand that desire...I did that when I was singing. I became someone else."
Strangely, it was a song that led to his writing the 1993 fantasy "The Innkeeper's Song," which is his favorite. "I was sitting alone in the living room at our house in the Watsonville/Santa Cruz area....the kids weren't home.. and this song came to me. The words and the music together. I later wrote the book to find out who the characters were." Two of the characters will be brought back to life in a book of long short stories to be published a year from now by Roc. The stories are set in the world of "The Innkeeper's Song."
This fall, a new Beagle fantasy, "The Unicorn Sonata," will be published. It is the story of a 13-year-old girl in the Los Angeles suburbs who wanders into an alternative universe where the dominant species are unicorns.
"I had a balloon payment due on the house, so I had to think of something," he said. Beagle will let any aspiring young writers know in a hurry that the writing life is a difficult one. "It's a miracle I've made a living writing books," he says. "I've managed to pay bills and raise children and it's been quite a while since I've had to steal books from bookstores."
He also is hoping that the first book he ever wrote, "A Fine and Private Place," will one day soon be made into a movie. But he's not holding his breath. He wrote the book when he was 19 years old and for the past nearly 40 years people have been talking about making it into a movie. Richard Dreyfuss has owned the rights for several years, Beagle said, and now a screenplay has been written. With Dreyfuss' career on a strong upswing at present, something might actually be done with the story of a man, a woman, two ghosts and a raven.
But Beagle says he's used to the ups and downs of Hollywood. The best thing to do, he says, is to avoid attracting the attention of the gods.
"I go work on something else," he said.
For more information about elephants just click on the "Llama's Mama" icon to get to "Pets, Vets, You and Dr. Sue."
---
"Mud Dance"
by Genaro Molina
From "In the Presence of
Elephants"
Text by Peter
Beagle
Published by
Capra Press,
1995/84 pp/$16.95
Elisabeth Sherwin's
interview with Mr. Beagle
can be found in "Writer's
range extends from
unicorns to elephants,"
the February 25, 1996,
PRINTED MATTER column.
---
[Author Menu] [Date Menu] [Genre Menu] [Printed Matter Home]
---

The Davis Virtual Market ||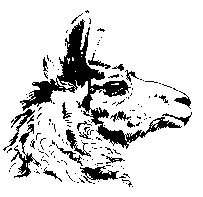 Pet, Vets, You and Dr. Sue