---
New writer thanks Harper Lee for leading way
November 12, 1995
Elisabeth Sherwin -- gizmo@ dcn.davis.ca.us
---
David Guterson says he owes the wonderful success of his first novel to a reclusive Southern woman who only wrote one book. That woman is Harper Lee and the book she wrote was, as everyone knows, "To Kill A Mockingbird."
"I owe a lot to 'To Kill A Mockingbird,' Guterson said at a reading in Berkeley earlier this month. "I followed very much the same structure and addressed the same concerns. I'm glad that book was part of my life."
When Guterson's book, "Snow Falling on Cedars," won the Pen/Faulkner Award earlier this year, he wrote to Harper Lee asking her to come to the award ceremony in Washington, D.C. Guterson didn't say whether Lee answered his letter, but she definitely didn't come to the award ceremony.
"She's really reclusive," said Guterson. But her impact on American literature in general and on Guterson in particular has been enormous. Other influences include the place he grew up, the Pacific Northwest, and his family.
"My father is a practicing criminal law attorney in the Seattle area," said Guterson. "I often heard about his cases and I often sat in on his trials. In the late 1960s when I was growing up I wanted to be a crusader like him but I didn't want to wear a suit and commute. When I went to college I took a creative writing class and decided in a week to be a writer. Writing became an obsessive compulsive habit but I had almost no money so I thought about being an urban firefighter and having lots of free time in which to write or becoming an English teacher and thinking about books and writers on a daily basis. That swayed me."
Guterson became an English teacher and "To Kill A Mockingbird" became his favorite book. "No other book had such an enormous impact," he said. "I read it 20 times in 10 years and it never got old, only richer, deeper and more interesting."
"I took that structure...of two separate stories that become one...and used it," he said. Guterson's book, like his mentor's, is multilayered. His book takes place on a fictitious island in the Pacific Northwest. Guterson grew up and lives on Bainbridge Island. "Snow Falling on Cedars" is a courtroom drama, a story of racial conflict, a regional novel, and a novel that portrays a particular time in U.S. history.
In Guterson's case, the time is 1954. The place is Puget Sound. The racial tensions following a fisherman's death pit whites against Japanese, neighbor against neighbor.
The unlikely hero is a bitter newspaperman, a veteran of World War II, who has the power to destroy or redeem his community. The audience at Guterson's book-signing and reading was clearly made up of his fans who laughed at his jokes and showed concern about his characters. But his words of praise for the mysterious Harper Lee had the audience thinking about her, too.
"Why do you think Harper Lee withdrew from public life so quickly and thoroughly?" someone asked.
"Maybe it's because she enjoys practicing law,"'* said Guterson and indeed that has been her profession for these many years.* "And maybe it's because she said everything she wanted to say," he added. " 'To Kill A Mockingbird' did come out of her own past." Another person in the audience asked Guterson why there was so little humor in "Snow Falling on Cedars." "You have such a wonderful sense of humor," she said.
"You're right," he said. "There's nothing funny about my book. I get really serious when I sit down to write. It's a brooding melancholy that haunts me. Besides, the books that I read that are funny also seem mean-spirited, as if the writer doesn't really like his characters."
While "Snow Falling on Cedars" is Guterson's first novel, which has just been released in paperback, he also wrote a non-fiction book on home schooling in 1992. He has four children, the eldest of whom is 14. He says it took almost 10 years to write his novel. The experience must have been a lot like raising a child. He thought about it for two years, then wrote and researched for eight. Every ounce of effort he put in this book paid off. The details of life on an island, whether they concern picking strawberries, clamming on the beach or deep-sea fishing, are absolutely vivid. His characters are well drawn and the conclusion is real. All in all, Harper Lee would be proud.
---
*Thanks to Hank Conner, associate professor of telecommunication at University of Florida, for this correction. He reports that Harper Lee has never practiced law. She was a student of law at the University of Alabama and was very close to taking her degree but left to write in New York City instead. Her sister, Alice, practices law in Monroeville, Ala.
---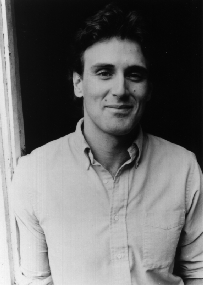 David Guterson, author of "Snow Falling on Cedars"
(Vintage, 1995)
Photo credit: Jill Sabella

Elisabeth Sherwin's interview
with David Guterson can
be found in "New writer thanks
Harper Lee for leading way,"
the November 12, 1995,
PRINTED MATTER column.
---
[Author Menu] [Date Menu] [Genre Menu] [Printed Matter Home]
---

The Davis Virtual Market