---
Recommendations for holiday reading or gift-giving
Dec. 3, 1995
Elisabeth Sherwin -- gizmo@ dcn.davis.ca.us
---
When people ask me to recommend "something good to read" I'm always pleased to do so. It's a pleasure to share with others the books I've enjoyed. Having said that, I now have to issue a warning: the first five books I'm going to recommend are memoirs, and all deal with very unhappy childhoods.
First on the list is "The Liars' Club" by Mary Karr (Viking, 1995). Karr, who now teaches creative writing at Syracuse University, had an exquisitely rotten childhood, much of which took place in the Texas refinery town of Leechfield, a manufacturing center for Agent Orange. At the end of this breezily written book, the reader is left gasping. Who could recover from such a family? Apparently, Karr did.
This is the female version of "This Boy's Life," writer Tobias Wolff 's description of how he survived life in Concrete, Wash., despite great odds. Karr and Wolff are not only both world-class survivors, but they both ended up teaching English at Syracuse. Karr credits Wolff and his wife, Catherine, for helping her with final drafts of her memoir.
If you haven't read the memoirs of Tobias Wolff ("This Boy's Life") and his brother, Geoffrey, ("The Duke of Deception") you're in for a treat - sort of. These are not happy books. The Wolff brothers were separated at a young age when their parents divorced. Toby went with his mother and Geoffrey went with his father. The brothers grew up separately and more or less equally unhappily and both became writers.
At a recent book-signing in Berkeley, Tobias Wolff was asked why they both write. "I have no idea why," he said. "It's a mystery, isn't it? We were raised at opposite ends of the country in different ways." The brothers were reunited when Toby was 16 and Geoffrey was 23. They became friends.
"(Geoffrey) helped me a lot. He could not conceive of a world without books," Toby added at the book-signing. He was there to promote the Vintage paperback issue of "In Pharaoh's Army: Memories of the Lost War."
Wolff joined the Army when he was 18 and served for four years, from 1964 to 1968. He ended up becoming an adviser ("I still can't say that with a straight face," he said) in Vietnam. The U.S. Army gave Wolff a year of language training at the end of which time he was told he spoke Vietnamese about as well as a 6-year-old with a freakish military vocabulary. "In Pharaoh's Army" became a National Book Award finalist.
Another favorite book, not new, also happens to be a dark memoir. "Rain or Shine" by Cyra McFadden was published in 1986. It's another story of a strange and lonely childhood, compellingly written. McFadden tells the story of growing up with her father, the adored king of rodeo announcers, and her mother, a vaudeville dancer turned trick rider, in the American West of the 1950s.
Finally, for some normalcy there's Susan Allen Toth who grew up not in some dark, loathsome place but in the heart of the Midwest. She wrote three books about growing up that are packaged as a paperback trilogy by Ballantine. They are: "Blooming: A Small-Town Girlhood," 1978, about life in Ames, Iowa in the 1950s; followed by "Ivy Days" Making My Way Out East" in 1984, about her years at Smith College. "How to Prepare for Your High School Reunion: And Other Midlife Musings" is the final book, published in 1988.
Toth also wrote two books about England, which I have written about before. They are: "My Love Affair With England," 1992, and "England As You Like It: An Independent Traveler's Companion" in 1995.
Toth and I both agree that "Daphne Du Maurier: The Secret Life of the Renowned Storyteller" by Margaret Forster is a must-read for Anglophiles. The biography of the woman who wrote "Rebecca" was published by Doubleday in 1993.
Returning to America, there's "Out of This World: A Woman's Life Among the Amish" by Mary Swander ( Viking, 1995). This is the story of a woman who nearly died due to a food allergy that included almost everything. At one point, she couldn't eat a lettuce leaf without becoming ill. So poet and essayist Swander radically changed her lifestyle, settling into a one-room Iowa schoolhouse on the edge of a large Amish community and growing her own food.
Finally, here are three books perfect for those interested in journalism, politics or history. The first is "Literary Journalism" (Ballantine, 1995) edited and with introductions by Norman Sims and Mark Kramer. This collection of the best of American non-fiction includes 17 articles by Susan Orlean, Calvin Trillin, Ted Conover, John McPhee, Jane Kramer and others.
For the politicians in the crowd, there's "A Rage for Justice: The Passion and Politics of Philip Burton" (University of California, 1995) by John Jacobs. This biography of Congressman Philip Burton by political journalist Jacobs, a Davis resident, sheds light on how a liberal Congressman pushed through the bills dearest to his heart.
"No Ordinary Time" by Doris Kearns Goodwin ( Simon & Schuster, 1994) is a book that reads like a well-written Sunday article. All about Franklin and Eleanor Roosevelt, it covers the home front during World War II and will be of special interest to those who lived through that extraordinary time.
And if you're buying books for those interested in Vietnam, here are three classics about that conflict: "Dispatches" by Michael Herr, "Paco's Story" by Larry Heinemann, and "The Things They Carried" by Tim O'Brien.
[10th Anniversary Printed Matter Column]

---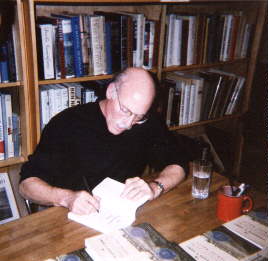 Tobias Wolff signs copies of "In Pharaoh's Army" at Black Oak Books in Berkeley, CA., November 1995
Elisabeth Sherwin's interview
with Tobias Wolff can be found in
"Recommendations for holiday reading or gift-giving"
the December 3, 1995,
PRINTED MATTER column.
---
[Author Menu] [Date Menu] [Genre Menu] [Printed Matter Home]
---

The Davis Virtual Market