McHenry Vineyard, 2006 Pinot Noir, Estate, Santa Cruz Mountains
We are so pleased by 2006 Pinot Noir. As our vineyard has matured, the wines have matured in complexity. We harvested from our non-irrigated vineyard between September 15 & 17 at 23.5 degrees Brix, 1.0 total acidity, and 3.3 pH. Fermentation lasted 7 days. The wine rested for 21 months in 60 gallon Francois Freres French oak Barrels. It was bottled June 22-28, 2006.
The aroma is complex and intense with a hint of black cherry. It has an elegant balance with a ripe fruit taste of blueberries and cherries. The finish delights the palate as only great Pinot Noir can.
150 cases produced 27.50 per bottle
Alc. 12.8% by volume
---
McHenry Vineyard, 2006 Estate Pinot Noir, Swan Clone, Santa Cruz Mountains
The wine for this wine came from cuttings from both Dijon 115 and Joe Swan's vineyard in the Russian Valley Both are planted on their own roots. In 2006 the clusters were exceptionally small with flavor-packed berries.
We picked on September14 at 24.3 degrees Brix, 0.9 total acidity and 3.4 pH. The wine rested gently for 21 months in Francois Freres French oak barrels.
The aroma is complex and intense with hints of raspberry and sweet lavender. It has a rich, ripe fruit, black cherry taste and a lovely, long and complex finish.
158 cases produced 32 per bottle
Alc. 13.8% by volume
---
One of our favorite wine merchants, K&L, has the following to say about these wines:
"2006 McHenry Estate Santa Cruz Mountains Pinot Noir: This is a super small production Pinot Noir from the McHenry Vineyard in the Santa Cruz Mountains - just 150 cases. Despite its relative scarcity, the price is right for a wine that is complex and lovely. Black cherries on the nose with more cherry and blueberry fruit on the palate, fine tannins and good acidity. A great buy.
2006 McHenry "Swan Clones" Estate Santa Cruz Mountains Pinot Noir: You knew shopping at K&L had its benefits. Here's one more. This uber-small production Pinot Noir (only 158 cases) is an elegant, raspberry-scented Pinot made from Swan Clone vines planted on their own roots. In the mouth the wine is full bodied, with black cherry and loam notes and well-integrated tannins. A low, 13.8% abv."
---
Henry and Linda McHenry
330 11th Street, Davis, CA 95616
Tel & FAX (530)-756-3202
Order wine directly from us by email or phone

---
History of McHenry Vineyard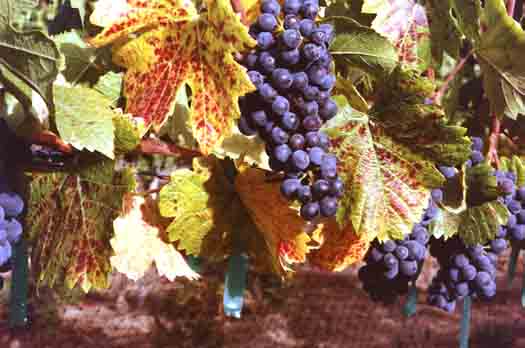 McHenry Vineyard Estate Pinot Noir Grapes September 2002
---
For Santa Cruz Mountain wine tour information, visit


The Wine Hub